Last week I had the pleasure to have a chat with Philippa Rice who is since spring time a resident with us.
You might know her through her successful book " Soppy " which gained the New York Times book price for children books. Funny enough , the US is the biggest market for comics and illustrations but the UK is quickly catching up.
Philippa's passion has been always in illustration and animation so she started her very unique animation work just a few years after graduation. Her fan club grew and she started to self publish her first books. At some point a publisher approached her being aware of the growing number of followers and the success of her work.
" Soppy " was and is a wonderful successful book and we do not doubt for a minute that her latest published book " Sister BFFs " will be similarly loved by her fans and will be a smashing success.
Philippa shares her studio at Oldknows Factory with her partner Luke Pearson who is an equally household name in the animation world.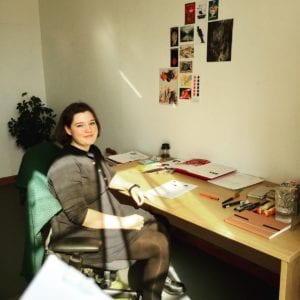 We are very proud to have Philippa at Oldknows Factory.