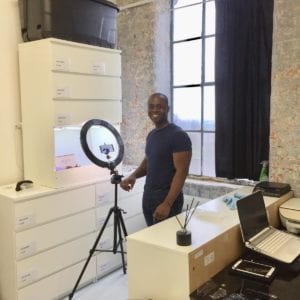 Last week I had the pleasure to interview our new tenant Jahmico Rogers in his premises at our Oldknows Factory.
Jahmico turned his hobby into a successful business called Uniquesight Eyewear. Before Jahmico started his own business, he was working in the spectacle and sunglasses supplier business. Especially the sunglasses domain was and is his passion. In 2015 he bought at an auction 2 pallets of Armani sunglasses. He sold them successfully within a short time on ebay . Jahmico has a very unique and classy way of taking photos of the products he sells which is extremely appealing to his clients. Through these photos he attracted the attention of 2 sunglass suppliers from Paris. Jahmico went to Paris to meet them and successfully came to an agreement. Uniquesight Eyewear is now the sole distributor of these French sunglasses.
Since then the company goes from strength to strength. At first he was operating from home but the amount of glasses and parcels which he was handling and storing were just too much so he decided to rent an office space with us.
Jahmico is focusing on the sale of luxury eyewear. He is very successfully selling his luxurious goods nationwide and starts now to crack as well the international market. He loves to work even into the early hours of the day. " when you love what you are doing it doesn't matter what time it is , time flies." Jahmico is a hard working and wonderful guy and we are very pleased to have him in the building. We are convinced he will go far.
His sunglasses are available on eBay    and you can follow him on Instagram under Uniquesight_eyewear