I had today the pleasure to have a little chat with the founder of Stone Stories Debra Webster. Debra was working for 20 years as a teacher . It was very disheartening for Debra to see that the educational system in Britain is only focussing on numbers and results. It seems that school authorities are not dealing with the growing problem of mental health issues among children and teenagers. Debra found that the children of today are increasingly disconnected from their feelings and are not able to self regulate their emotions. The result is growing anxiety and depression among children as little as 3 years and hence the incapability to learn and to connect.
Debra took the brave step into freelance self employment to make a difference. She founded Stone Stories. These are beautiful stones with various pictures of Debra's own drawings on them. With the help of these stones children create their own little stories , daydreams , time out and connection with others. This method has a big impact on children, it helps to boost vocabulary, self-confidence and self regulating of emotions. The children are more relaxed and they learn better. Debra offers workshops at nurseries and schools.
Debra works closely together with Empower Education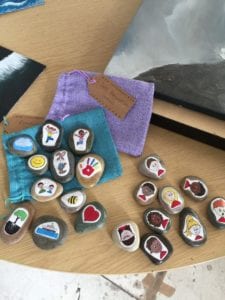 who has the same goal : help our children to be healthy and whole.
What a wonderful task and we are so excited to follow Debra's journey. Please have a look at her website Stone Stories and see the inspiration and amazing stones!