The team of The Will Collective is a relative new member of the Oldknows Factory family. They are very ambitious to find another dimension for branding. The Will Collective takes a client's abstract business idea and turns the idea into a story that needs to be told to the world. Spreading the word with all the amazing tools their creative team has available from video production, design management, event coordination and so much more.
Enhance, build, learn ,motivate, be ethical …. these are some backbone topics The Will Collective tries to transpire through their work with clients. The new generation of entrepreneurs want their success to go hand in hand with ethical and ecological standards. Love what you are doing , being successful and making the world a better place at the same time doesn't have to be contradictory.
They are working closely together with the Nottingham Emmanuel House , a charity which helps the homeless. The Will Collective helps Emmanuel House with their internet and social media presence . Furthermore the are running a campaign to help Emmanuel House to be the charity of the year. Such a good cause!
The Will Collective is an inspiring company to watch and we are very happy that they are a member of the Oldknows Factory Family.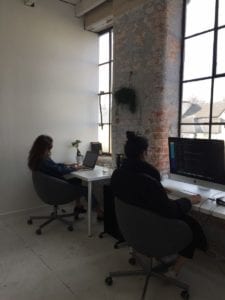 To get in contact please email: hello@thewill.co