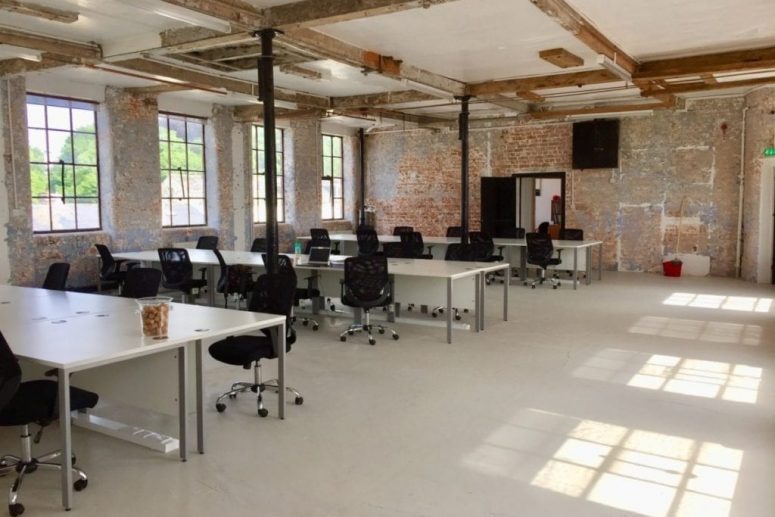 Sometimes arranging an office space can seem like a daunting task, especially if you have an odd-shaped office. Sometimes changing an office space can create a refreshing start for both you and your employees to grow. If you arrange your office space in a practical way, you can not only create a better aesthetic experience but also increase comfort, productivity and inspiration.
Having a poorly designed office space could potentially lead to bigger problems on a wider scale. Jeff Pochepan writes "higher stress levels, emotional rifts between departments, corporate resentment, employee bickering, mental health issues, anxiety, and even physical problems such as backaches and reduced eye vision" can be a result of a badly designed office space. Good office space on the other hand can increase productivity, lengthen the time that employees stay with the business and create a more forward-thinking workspace.
If you're looking for an office space that is well arranged, yet has space to put your own stamp on it, take a look at Oldknows Factory today.
How to arrange an office space: Make a good plan
As with any design work, a good plan is needed to be able to know how much to spend, what will be practical and how much space you have. Depending on your budget, it might be worth hiring an interior designer to give you ideas and put together something special. It could also be beneficial to get input from your employees to see what would pique interest for them.
How to arrange an office space: Don't consider anything unpractical
Uncomfortable chairs are not the way forward, no matter how they look. You are going to be spending the majority of your day sitting down and working, so it's important to make sure that your employees are comfortable. Designs that aren't ergonomic like chairs can cause health problems such as back pain migraines and even eye strain. Oldknows Factory has practical solutions in their offices, such as kitchen space, toilets, break out spaces and boardrooms.
How to arrange an office space: Have a variety of different options
Something that suits your needs don't necessarily suit others needs. Having a variety of different desks and chairs to suit an individual will make them feel more comfortable. Even incorporating quiet spaces or standing up desks gives employees flexibility and might help them work harder.
How to arrange an office space: Natural lighting is key
If you don't have much natural lighting, utilise the light that you do have. Place mirrors opposite windows or has desks next to windows. If you don't have any natural lighting, invest in some nice lighting that imitates natural light in different areas. You could even invest in some desk lights for people to highlight their work. Oldknows Factory has office spaces available with big windows letting in plenty of light.
How to arrange an office space: Leave open space
It can often be tempting to buy plenty of furniture for an office to facilitate different activities but don't forget that open space is good too. Spaces that turn your eye and have visual complexity is good as they give your mind something to do. On the other hand, too much complexity can seem chaotic and unpeaceful.
How to arrange an office space: Make sure you have plenty of storage space
Make sure that you have enough space to store all of the different types of files you may have. Space for things like a water dispenser, any stock you may have and anything else associated with your business.
How to arrange an office space: Plan for growth
Make sure that you have enough space for growth. Are you planning to have some new employees start this year? Do you have enough chairs in the kitchen? Or enough space for their desk and facilities? If you organise your space thinking about 1 year into the future, you won't need to reorganize or redesign your space too early.
How to arrange an office space: Is your office too cold, or too warm?
You may want to consider if your employees will be at the right temperature and place. For example, it won't be a good idea to put a desk near an open window in the wintertime, nor will it be ideal to have a desk placed in the sunlight during the summertime. Make sure you have all the right equipment in place to battle this issue, such as curtains and double glazed windows.
Thank you for reading our blog 'How to arrange an office space'. If you are looking for trendy office space in the Nottingham area, take a look at Oldknows Factory today.