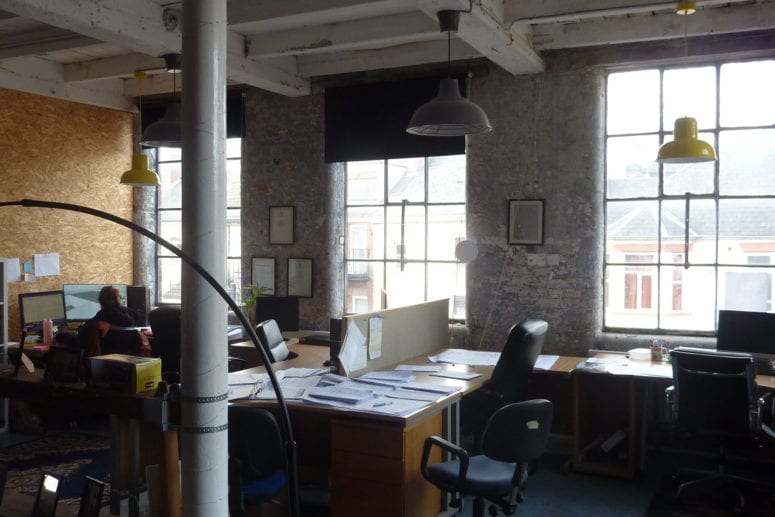 Research has shown that our working environment has a direct impact on our mental health. A gloomy, oppressive office causes us to feel more stressed, even when not at work. That's why when you are looking for office space, it has to be functional, but it should also be a pleasant and inspiring environment for your employees.
If you feel like your current office space is zapping you and the team of your creativity, passion and work efficiency, then maybe it's time for a change. Here are some simple tips for achieving a workspace that's both creative and conducive to ultimate productivity, but first…
What is a Creative Office Space? 
A creative workspace is what you make it, it's that environment you bring into your workspace, that allows you and others to work in a place which will benefit all. The answer is any and/or all of the above. A creative office space is somewhere that breaks free of the stifling cubicle culture of times gone by. It is somewhere that's playful and open – inviting creativity, flexibility and collaboration. There are no set rules, but there are some key principles… here are some of the best ways to incorporate them into your own office:
1. How To Make Things Feel as Spacious as Possible
When looking for an office space, it must be open and feel spacious. Clutter can halt creativity and productivity. Look for an office space that will inspire and impress your staff/clients. You could also try ditching unused desks in lieu of flexible spaces and common areas filled with stylish sofas, coffee tables and armchairs for a laid-back, spacious vibe. 
2. Always Keep it Bright and Light 
A dingy space with no natural light can kill off creativity. You and your team need an office space that enhances feelings of wellbeing. Also, why not bring some of the outdoors in with some plants? This can help to counteract stress, and it's an easy design win if you're using serviced offices, for example, and can't mess too much with the decor. 
3. Your Dream Office
As well as inducing feelings of calm, a creative office space should feel exciting and inspiring. This can be down to your choice of location of office space, maybe a building with some history or somewhere that provokes your creativity. 
4. Introduce a Creative Hub
Providing your staff with a dedicated area to help boost their creativity is a must. Everyone has those moments when creativity dwindled, it's kind of like writer's block. Strategists, copywriters, account managers, graphic designers and many more professionals rely on feeling inspired to be able to come up with the kind of ideas that deliver great results.
With this in mind, make sure your employees are able to feed that inspiration by providing them with facilities to do so. Reading is a great way to get the creative juices flowing, so dedicating a space to just this in your office could really pay off in the long run. Fill a cosy nook or old meeting room with a range of books both related to your industry and more abstract to help fuel pitch-winning ideas.
5. Fight Monotony as Best You Can
There's nothing more detrimental to creativity than a sterile, monotonous space that lacks character and intrigue. To counteract this, break up work spaces with interesting artefacts, such as sculptures and wall art, and disperse interesting, aesthetically-appealing furniture throughout your office in order to avoid that pitiful, sea-of-all-white-desks look. 
Making your office space look and feel more creative may feel like a lot of effort to go to – especially when it may take a while to feel the benefits. But when you start to notice a change in your staff, realising that they're more motivated, productive and creative, you'll know you made the right choice. A workforce that actually looks forward to coming to work and reaping your business big rewards? Sounds good, when you put it like that.
Why Not Book A Tour?
Would you like to tour our creative and inspiring office space in Nottingham? Due to our flexible contract terms, we can accommodate a wide range of different businesses, creative individuals, freelancers & much more. We are always happy to listen to your requirements and will do our very best to meet them.
To book a tour, call 0115 6971057 and let us know a time and a date that suits you. Or, fill out our contact form below. We can't wait to show you around our fabulous space and we are sure that once we do, you will fall in love with it too. Just a short distance away from Nottingham City Centre (7 minutes walk!), you will have all you need nearby. This includes good transport links, all the benefits of a thriving city centre, along with quirky and stunning office spaces, contact Oldknows Factory today.