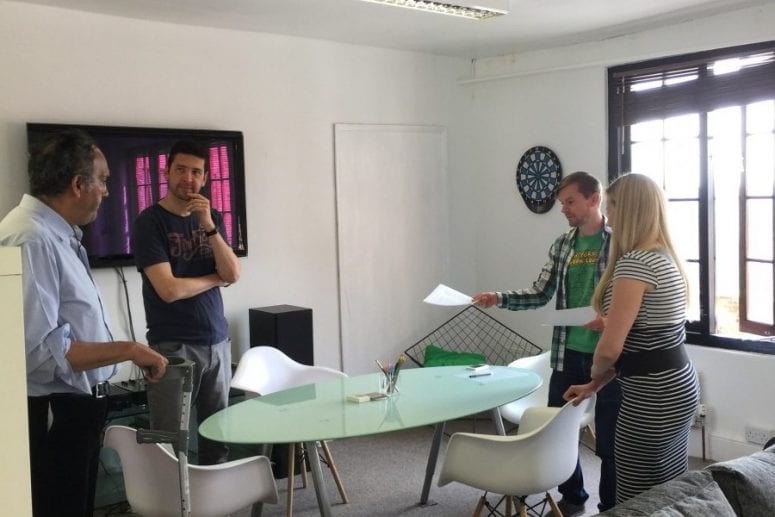 Regardless of size, from large to small, all businesses face the pressure of maximising on efficiency. The space for employees operations will have a huge effect on their general productivity and happiness. As such, it's important for office managers to spend some time creating an office that sparks creativity and efficiency.
Successful businesses inevitably grow and expand, but even the smallest of offices can benefit from some chances. Even minor adjustments can keep an office feeling few and new for employees. Not only cosmetic, but also boosting efficiency with correct storage systems, furniture placement and declutter.
This article by Oldknows Factory will cover a few methods on how to optimise your office space. We lease office and creative spaces at extremely competitive prices. Get in contact with us today and speak to our friendly team for more information.
How to make the most of your available space
Hot Desking
Hot desking is an effective method of ensuring that space does not go to waste. Essentially, one desk is shared between employees who work different shifts. As a result, work stations remain occupied, instead of remaining empty for four days of the week, for example. This solution works well for part-time employees, or those who work non-standard odd hours.
Cloud Storage
Making use of cloud storage systems or external data storage can also free up room in the workspace. Data centres offer secure off-site storage for your computer servers and telecommunications equipment. Since servers can be noisy and take up a substantial amount of space, investing in an external data centre is prudent. Cloud storage, meanwhile, is another option for the storage of data. Online hosting services such as Google Drive, Microsoft's SkyDrive and Amazon's Cloud Drive, in addition to many lesser-known companies, all offer business packages that reduce the need for on-site servers.
Telecomms
If you don't require all of your employees to be physically present in the office, then offer the option of telecommuting. Essentially, employees work from home, but remain linked to the office via Skype, telephone calls and the like.
Coworking
Coworking is a viable alternative if you only require a small section of office space, or have extra space that you aren't using. Coworking involves sharing an office space and communal facilities with a number of other businesses. We have written an in-depth post on this concept, if you'd like to find out more.
Balance
Create a balance. The idea is not to cram your employees in the room and make them uncomfortable, but to provide everyone with a sufficient amount of space to work. Drawing up a floor plan before you move into a new office can help you avoid falling into the trap of under-utilising space.