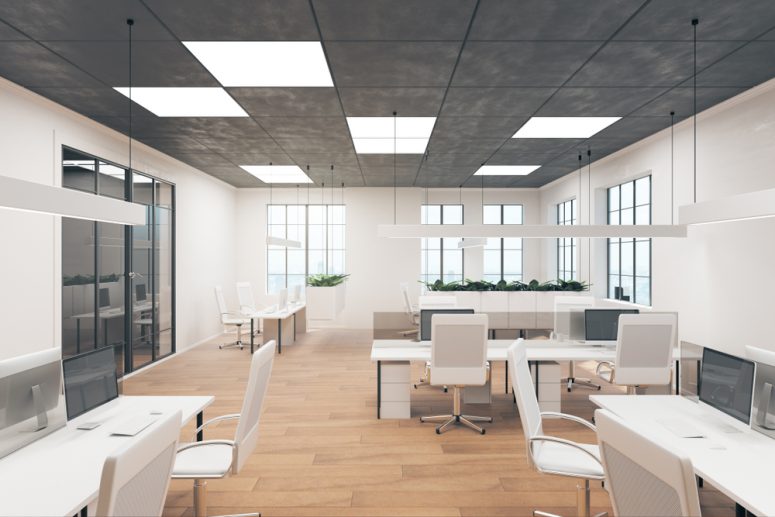 Open office spaces have been proven to greatly benefit the working environment, allowing for better communication between employees as well as introducing better aesthetics. Whether you've just invested in one, or have been working in one for years, there are always new ways to improve your open office space.
Organisation
Organising your office space can improve the environment both you and your employees work in. Reduce the clutter in your office and remove any furnishings, equipment and decor that are taking up unnecessary space. Encourage your employees to go paperless, which can benefit the environment as well as your office space. This removes the need for filing systems, both on desks and off, and allows for easier access to documents online.
Encourage employees to organise their desks so their working environment can feel less cluttered. Research has shown that people work more efficiently in cleaner and organised environments.
Introduce colour
There's nothing more boring than sitting in a dull office for 8 hours a day. Introducing colour with vibrant furnishings and decor can stimulate minds and improve productivity.
Blue and green can improve efficiency and focus by providing an overall sense of well-being. These earthy colours create happier and more effective workers. Red can be quite intense and in an office environment should be used sparingly, but can be effective to draw attention to something. Yellow represents optimism and can create a fresh feeling. This colour is best used in creative office environments, as it is known to trigger innovation.
Seasonal Decorations
Christmas, Halloween and Easter are all reasons enough to decorate your open office space with seasonal decor. Unique decorations attract attention and can even bring in future clients.
Decorating your office with seasonal decor can also boost employee morale. Getting your workforce involved with office decorating can improve working life and create a happier environment to work in.
Food & Drink Facilities
The legal requirements for office spaces are providing drinking water, a place to eat, and a hygienic environment to prepare food. If this is all your open office space has, consider investing in finer food and drink facilities. This could include: ovens, fridges, microwaves, tea and coffee facilities, pantries, and cutlery.
Improving these facilities can make employees feel more comfortable, which may lead to improved productivity and higher morale. Investing in tea and coffee facilities, in particular, could greatly improve efficiency by providing a way to boost energy levels.
Lighting
Dark and dull office spaces can have a significant negative impact on employee mental health. Lighting makes a huge difference in mood, productivity and health, and can improve someone's working life.
Natural light, in particular, has been proven to have a positive effect on employees, a key feature of open office spaces in The Oldknows Factory. Even if you don't have access to an abundance of natural lighting, LED lights can still improve efficiency in the working environment. Create a positive impression of your workforce and invest in better lighting.
The Oldknows Factory in Nottingham provides excellent open office spaces for businesses across the country. You can easily improve your open office space with the offices we provide, including natural lighting and open environments. Rent your open office space in Nottingham today, or contact The Oldknows Factory for more information.