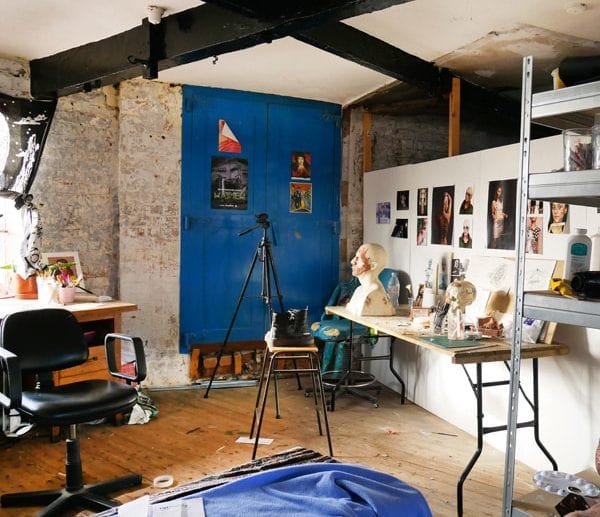 Working as an artist can be isolating and moving into a dynamic studio group can offer much-needed support. But what are the issues, costs and considerations of finding an artist space? How do you know when you're ready and if the timing is right? The fact of the matter is that every art business is different, so it depends on who you are as an artist and where you are both personally and financially. We at the Oldknows Factory have put together a list to help you decide whether you should rent an artist studio? 
1. Do I Need a Better Work-Life Balance?
Maybe your artistic process keeps being interrupted by phone calls or children at home, or maybe you can't seem to put the brush down when other priorities call. Having your current workspace right in your home can pose a problem for some artists' work-life balance. If this sounds like you, you may want to consider getting a separate studio space. If you can't seem to find inspiration or motivation in your current workspace, you may find peace in going to a studio every day. This can help you "train" yourself to be creative, says Empty Easel, because your brain knows that it's time to get to work when you arrive.
2. What type of space would help me be more creative and productive?
As a professional artist, you want to be as creative and productive as possible. Many are able to accomplish this perfectly with an at-home studio. But, if you don't have the right space at home, you may need to find your own art studio to get the job done. Consider this next question, as well.
3. Is there a studio in my area that meets my needs and price requirements?
After determining if there is room in your budget, figure out if there is an available space that meets all of your needs. Is there a studio space that is the right size, type of space, distance from home, and cost for your art business? And depending on your budget, don't be afraid to get creative with what constitutes a studio space. It's whatever you think will work best for you.
4. Is an office to rent at the Oldknows Factory for you?
Every artist will have a different answer as to what will work best for them. Weigh up the benefits and costs for your own art business to determine if getting an art studio is right for you. And remember, if you decide that one option is better for you at this point in your art career, you can always answer these questions again later on and make an art studio change.
The Oldknows Factory has plenty of artist studios to rent! If you are looking to break out into your own unique studio then look no further. The Oldknows Factory holds a range of facilities and amenities to help your creativity and productivity flow. It's full of unique character and a great established community full of passionate individuals and companies. Whatever position you are in, be it an entrepreneur, young professional or an established business we have the perfect artist studio to rent!
If you have any further questions about our artist studio to rent, then feel free to get in contact with us. Also to get an idea of the vibe of the Oldknows Factory then you should check out our website and social media platforms. Give us a call to discuss an artist studio on 0115697057 or Contact Us.