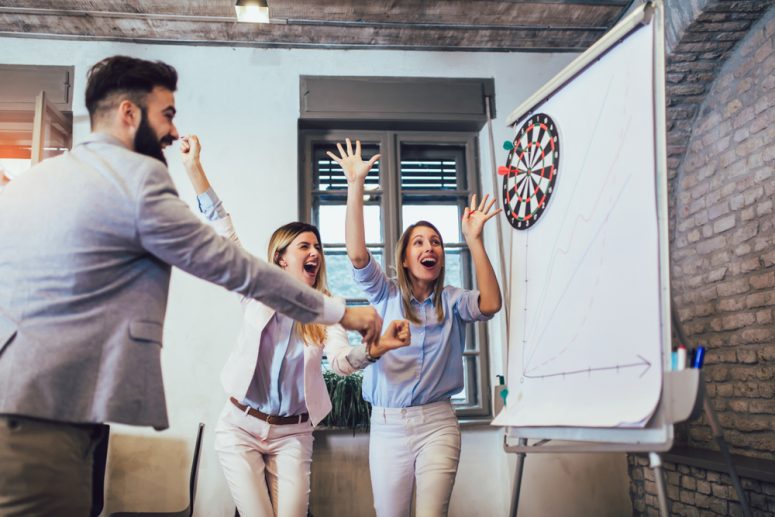 More and more businesses are starting to realise a creative office space is vital for employees. In fact, many current and prospective employees place a creative office space high on the priority list when it comes to workplace preference.
Although creative office space to rent Nottingham are still extremely limited, there is an increase in numbers because of the advantages they pose. In order to achieve this modern-day setup, some may opt to convert their existing office, whilst others might realise they need to search for a new office space to rent Nottingham that lends itself to a more creative atmosphere.
So, what exactly is a creative office space and what are some of the advantages it poses? Read on to find out more about this revolutionary trend.
The Evolution of Office Spaces
A creative office space is any office that doesn't fall under a traditional office layout. This means streamlined cubicles with executive offices around the perimeter. A creative office space is a thoughtfully designed space where creativity, flexibility, collaboration and comfort are meant to thrive.
Whilst isolated offices once meant promotions and big titles, they're now seen as rooms where executives are out of touch with employees. Nowadays, executives want their teams right alongside them for increased productivity.
Unlike traditional offices with countless cubicle builds, private offices, and conference rooms constructed, creative office spaces can be built-out quickly with most features easily-movable. What once started as an option for easy office relocation and cost-efficiency is now trendy and ideal.
Traditional corporate offices are now being widely seen as drab, uniform and lacking in inspiration and creative spirit, with many employees feeling like they are in a stagnant and mundane environment. Creative office spaces are the exact opposite as they're vibrant spaces that are designed to inspire employees and feel free to openly express their innovative ideas and solutions.
Characteristics of a Creative Office Design
These thoughtfully designed office spaces available to rent in Nottingham take a number of different things into consideration; with comfort, productivity, teamwork and creativity being at the forefront of layout and design choices.
Open concept floor plan with fewer individual offices.

Flexible layouts, such as moveable walls, rooms that serve as team meeting areas or lounges, a reception area that serves as a bar area and other unique features.

Upgraded flooring, such as polished concrete or wide wood planks.

Exposed ceilings and accent or brick walls.

An open concept kitchen with modern appliances.

Modern lighting fixtures and a lack of harsh fluorescent lighting.

Features that promote wellness such as beanbags, bench style seating or standing desks, etc.

Plants around the office as they significantly increase levels of positivity and calmness.

Open space with an abundance of natural light.

Game areas such as pingpong, foosball, minigolf, darts and treadmills or any other stress-reducing activities.

Low carbon footprint.
When a creative office space is designed and constructed effectively, employee wellness is increased. The idea is to create an environment where employees look forward to coming in everyday. It evokes a sense of pride in working for a forward-thinking company.
Advantages of Finding a Creative Office Space to Rent Nottingham
The benefits that creative workplaces provide are many, ranging from an increase in employee wellbeing to reflecting the company's work ethic.
An Increase in Employee Wellbeing and Retention
For the longest time, employees simply entered their traditional office, sat in their isolated cubicles and performed their tasks like robots. This mundane work life creates a sense of emptiness which in turn affects employees' mental health. Now, with more companies choosing creative office space to rent Nottingham, employees feel genuinely cared for, with their wellbeing increasing substantially.
The addition of unique features throughout the workplace allows employees to destress and engage more. With some going as far as to say a creative office space gives off the same effect as a relaxing coffee shop where one can be productive.
Additionally, allowing employees to decorate their own workstations with colour, plants, etc allows them to feel more empowered. Studies have shown that the more control an employee has of their individual workstation, the happier and more productive they are.
Relaxed policies, such as happy hour and bringing your pet to work can truly make employees feel more comfortable, pushing the idea that by finding a creative office space to rent Nottingham, people are able to live, work and play.
All of this goes a long way to improve a workspace with employees' wellbeing in mind as well as increasing employee retention rates. Employees feel like the organisation is doing their part in genuinely caring for employees, listening to their needs and rewarding their hard work.
Recruitment of Top Talent
When employers opt for a creative office space to rent Nottingham, they have an advantage in terms of attracting top talent. The war for talent is fierce and the best want to work in creative spaces.
First impressions go a long way. Inviting a candidate into a creative office space for their interview will definitely grab their attention. Furthermore, including an office tour in the interview process whilst explaining the forward-thinking policies in action can heighten a prospective employee's interest and lead to less negotiation on their part, as they've seen firsthand the daily benefits of working there.
Creates Excitement
A monotonous traditional office is one that feels repetitive and uninspiring, resulting in unhappy employees. It can be beneficial to add some vibrancy and colour to a workplace to bring some excitement into employees' lives.
Opting for a creative office space to rent Nottingham keeps things exciting for employees by adding fresh elements on a regular basis or simply having a plethora of modern, interactive features already. This could include games around the office, wall art, changing out the plants, and offering new snacks.
Another option is to create breakout areas where employees can relax during their breaks such as a beanbag area, an open space kitchen where they can cook, an outdoor garden and team lounges.
Reflection of the Company Work Ethic
Choosing a creative office space to rent Nottingham actually reflects your team's work ethic. A creative office space can be used to impress clients and business partners when they visit, as they can see how innovative and forward-thinking your company is.
By transparently showing how flexible employees are in this relaxed work environment whilst producing incredible results, clients and business partners are able to see how beneficial a creative office space is. It also shows how dedicated and productive employees are to make the business a success as a result of this arrangement.
Enhances Productivity and Imagination
Creative spaces increase productivity and imagination. This is because employees feel motivated to work. Rather than being separated from each other, the open shared space between employees makes the mind feel freer to brainstorm and innovate.
It also makes it easier for employees to work with one another, solve problems and boost each other's morale. The airiness of the space as well as the natural lighting inspire the imagination. Furthermore, the freedom to move around and work in areas that are best for them actually increases their productivity.
A beautiful, vibrant atmosphere can be inspiring, making employees more willing to get tasks done. Think of it this way, a dull environment with zero art, plants or even space is incredibly wearing on the imagination.
Creative Office Space to Rent Nottingham
If you're a business owner and considering trading in the traditional office space, and instead opting for a creative office space to rent Nottingham, then look no further than Oldknows Factory.
The Oldknows Factory is full of industrial charm and is a melting pot for businesses and creatives alike. Our creative office spaces boast a range of amenities to inspire your productivity. We offer office space to rent Nottingham for start-ups, medium sized businesses and enterprises as well as creative spaces for artists.
Our units come complete with a bar/kitchen space, free high-speed Wi-Fi, an open plan office and more. Kit out your communal spaces with pool tables and air hockey or build out an alternative relaxing work space, the choice is yours!
If you're looking for a space with flexible leases, fantastic amenities and various transport links, check out our available office spaces or get in touch with us now and book a tour!
If you've recently opted for a creative office space to rent Nottingham and have no clue where to start in terms of designing the space with features that are going to energise your employees, read our blog article on 'How to Make Your Office Space Feel More Creative'.